About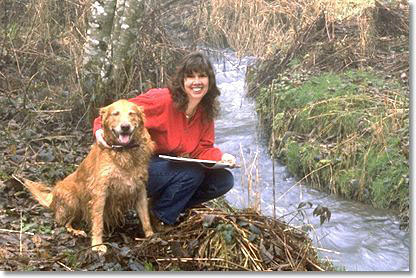 Diane Phalen likes to say "I quilt with my paintbrush." Diane is not an actual quilter but has made hundreds of quilts - not with needle and thread - but with paintbrushes, watercolor paint, and paper. Having always loved to draw and paint, Diane spends a lot of time in nature observing the changing seasons, flowers, birds, and wildlife and committing them to canvas.
She always loved seeing quilts and saw a lot of them hanging outside airing in the breeze in her home state of Pennsylvania. She decided to add a quilt within one of her paintings-inspired by a country store setting in Stony Run, Pennsylvania. There weren't any quilts hanging outside the store but Diane could picture it as if there were. She went on to paint that country store complete with quilts just as she imagined and that was the start of something uniquely her own. Diane loves the traditional patterns found in quilting and likes to combine the concept of a Mariner's Compass quilt hanging near a lighthouse- Fox and Geese Quilt surrounded by a fox and geese! The patterns are endless and it is fun to design a few on my own too!
As a young woman in her twenties, Diane moved to California and eventually Oregon. There, some of her paintings reflected the beautiful rugged landscape, with quilts hanging in front of log cabins instead of white Amish farmhouse,s and mountains in the distance instead of pastoral meadows and rolling hills. The feelings they evoked were still the same peace, harmony and a reverence for nature.
Diane's studio is once again located in Pennsylvania, so that she could be closer to her parents and family. Diane loves once again painting the familiar covered bridges, barns, Amish countryside and changing seasons, that first inspired her to pick up the brush.
Diane hopes to convey the emotion she sees in nature and the beauty of quilts with their colors and patterns. Each painting takes many long hours, even as long as up to two months to complete. Though her main medium is watercolor, through the years Diane has experimented with some acrylic paints, ink, and watercolor pencils - anything to achieve the desired effects. Diane's unique technique includes applying layer upon layer of watercolor to achieve deep, textured hues. For a special effect, she even adds tiny stitches to the quilts with her paintbrush!
Diane wants collectors of her art to be able to feel the summer day, the wind, the scent of the flowers, the mood of an autumn sky or winter sunset, a moment of peace and contentment, connecting nature with our heritage. She wants the eye to move through each painting and discover delightful hidden elements like a butterfly on a flower or a cat resting among garden blossoms.
Diane will continue to add to her Americana Quilt Series, and continue to capture nature and its changing seasons. She hope to explore more of the Ocean and coastline too. Diane will continue exhibiting at a few select Quilt and Art Shows. She loves to travel and hopes to someday experience more of the beauty of nature.
Diane offers her art in prints, note cards, tapestries, calendars, bookmarks, and jigsaw puzzles, and hopes to have a fabric collection some day soon. Diane is pleased to have designed for Maywood Studios, E.E. Schenck, Erlanger-Blumgart, P&B Textiles and Elizabeth's Studios. Diane has also enjoyed writing two books for the Quilting Industry: Diane Phalen Quilts for C&T Publishing and Quilts from a Painter's Art for Landauer Publishing. Diane has also written and done demonstrations of her watercolors in Painting the American Heartland in Watercolor for North Light Books.
Quilt Artist Extraordinaire
Meet Diane Phalen, known for her paintings featuring spectacular quilts. After a short advertisement, Home and Garden TV interviews you-know-who on the TV show Simply Quilts.
http://www.hgtv.com/video/quilt-artist-extraordinaire-video/index.html